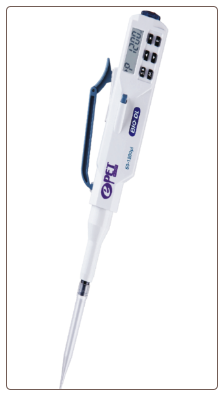 Click to enlarge image(s)
Features:
Direct charging using AC-adaptor
Simple keypad allows easy, error free selection of liquid handling modes, volumes and speeds
Clear LCD display keeps you informed of the pipette's current task
Feather-touch button activates all piston actions
Compound lever design and side postion provides easy tip ejection
Computerized drive system with fast DC-motor lets you work more efficiently than with mechanical pipettes
Ejector collar and tip cone can be removed for easy cleaning and maintenance
Pipetting modes for electronic pipettes
1. Pipetting (P)
Pipette a selected volume with automatic blow-out with complete control of the piston
movement. Post-delivery mixing may be used in conjunction with this mode.
2. Multiple Dispensing(d)
Aspirate the total volume plus an excess and repetitively dispense equal volumes of liquid.
The volume and number of remaining aliquots are shown on the display
3. Diluting (dd)
Two different solutions separated by an air gap are aspirated and then dispensed together
with automatic blow-out. This mode may be used also in conjunction with post-delivery mixing
4. Multi-Aspirating (SA)
Manual method for washing microplate strips
Select the volume and the number of aspirations until the series is completed, then discard
the full aspirated volume in a single step.
5. Post Delivery Mixing (* or + Mixing)
The piston is automatically moved up and down to mix the liquid in the delivery vessel. The
mixing time is controlled by the start button. The mixing function is available in the
pipetting or diluting modes (P, dd).
| | | | | | |
| --- | --- | --- | --- | --- | --- |
| Cat. No. | VolumeRange | Increment | Inacc. | Impr. | Compatible Tip |
| 710521ET | 0.2-10ul | 0.1ul | ±0.90% | ±0.50% | 10ul |
| 710011ET | 5-100ul | 1ul | ±0.40% | ±0.15% | 300ul |
| 710021ET | 50-1000ul | 5ul | ±0.40% | ±0.15% | 1000ul |
| 710041ET | 50-1200ul | 5ul | ±0.40% | ±0.15% | 1200ul |
| 710501ET | 100-5000ul | 50ul | ±0.50% | ±0.15% | 5000ul |