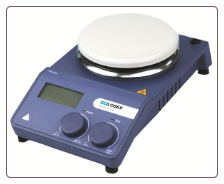 Click to enlarge image(s)
MS-H-Pro-Plus Circular-top Digital Magnetic Hotplate Stirrer Features:
Easy-to-read backlit LCD display
Heat only, stir only or heat and stir together functions
Automatic spin bar retrieval
Low temperature stability
Stirring and heating functions can be saved in memory
Accessory PT-1000 Sensor for medium temperature control available
Accessory reaction blocks for flasks and vessels available
Electronic speed control for constant speed even during changes in load
Maintenance free brushless motor for long life
High magnetic adhesion
Free software for control & data logging by PC
cTUVus approved
CE Marked
2 Year Warranty
New! Free PC-Software for control & data logging via RS232. Please click here to download.
MS-H-Pro-Plus Circular-top Digital Magnetic Hotplate Stirrer Specifications:
| | | |
| --- | --- | --- |
| Hotplate/Stirrer | : | MS-H-Pro-Plus |
| Temp range | : | Ambient - 340°C |
| Speed range | : | 100-1500rpm |
| Temp display accuracy | : | ±0.1°C |
| Temp control accuracy with PT1000 | : | ±0.2°C |
| Heating rate (1 liter water) | : | 6K/min |
| Speed/Heat display | : | LCD (backlit) |
| Motor type | : | Brushless |
| Stirring capacity | : | 20L |
| Plate diameter | : | 5.3" |
| Plate material | : | Stainless steel or Ceramic |
| Dimensions | : | 11"L x 61/4"W x 3"H |
| Weight | : | 6lbs |
| Voltage | : | 110Volts 60Hz, 550W |


MS-H-Pro-Plus Circular-top Digital Magnetic Hotplate Stirrer Ordering Information:
| | | |
| --- | --- | --- |
| Catalog No. | : | Model |
| 86114201 | : | MS-H-Pro-Plus LCD Digital Hotplate Stirrer with S/Steel Plate, 110V 60Hz |
| 86124201 | : | MS-H-Pro-Plus LCD Digital Hotplate Stirrer with Ceramic Plate, 110V 60Hz |
| | |
| --- | --- |
| | |
| STAINLESS STEEL PLATE | CERAMIC PLATE |


MS-H-Pro Plus Circular-top Digital Magnetic Hotplate Stirrer Accessories:
| | | | |
| --- | --- | --- | --- |
| Catalog No. | : | Description | |
| 18900016 | : | SCILOGEX PT1000 Sensor | |
| 18900136 | : | SCILOGEX PT1000 Sensor with glass protective sleeve for use with corosive chemicals | |
| 18900001 | : | Carrying plate for quarter pie reaction blocks | |
| 18900065 | : | Containment ring to secure quarter pie reaction blocks in hotplate | |
| 18900002 | : | Red quarter reaction block, 11 holes 4 ml reaction vessel 15.2mm dia x 20mm depth | |
| 18900003 | : | Purple quarter reaction block, 4 holes 20 ml reaction vessel 28mm dia x 24mm depth | |
| 18900004 | : | Blue quarter reaction block, 4 holes 30 ml reaction vessel 28mm dia x 30mm depth | |
| 18900005 | : | Black quarter reaction block, 4 holes 16ml reaction vessel 28mm dia x 43mm depth | |
| 18900048 | : | Green quarter reaction block, 6 holes 8ml reaction vessel 17.75mm dia x 26mm depth | |
| 18900049 | : | Gold quarter reaction block, 4 holes 16ml reaction vessel 21.6mm dia x 31.7mm depth | |
| 18900080 | : | Reaction block for 50ml round bottom flasks (4 flasks maximum capacity) | |
| 18900081 | : | Reaction block for 100ml round bottom flask (2 flasks maximum capacity) | |
| 18900082 | : | Reaction block for 250ml round bottom flask (1 flask maximum capacity) | |
| 18900083 | : | Reaction block for 500ml round bottom flask (1 flask maximum capacity) | |

Click to Download PDF: SCILOGEX Heating, Stirring, Mixing & Distilling Catalog