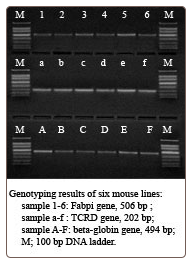 Click to enlarge image(s)
The TISSUE-DIRECT™ PCR Kit contains all the reagents needed for quick extraction and direct amplification of genomic DNA from cells, mouse tails and other animal tissues; such as liver, muscle, hair shafts, skin and saliva. The kit contains everything needed and is optimized for working with animal genomic DNA. The PCR product can be directly loaded onto agarose gel for electrophoresis, without adding loading dye. The kit makes genotyping quicker and easier, especially if you have a large number of samples.
This is the best kit for genotyping.
SPECIAL FEATURES
Easy: no DNA purification needed
Consistent: containing pre-optimized 2X PCR mix
Specificity: little or no background
Sensitivity: work with low amount of DNA
APPLICATIONS
Genotyping - widely used for genotyping

Mutation detection

Target detection in transgenic mice

Quantitative PCR, DNA sequencing and cloning

Can be easily adapted to high throughput system; such as Qiagen and other company's automation systems