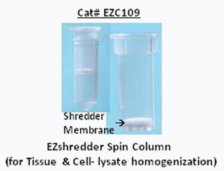 Click to enlarge image(s)
EZshredder for simple and quick homogenization of cell and tissue lysates

Description::
EZshredder column provides an easy and efficient spin column method for homogenization of cell or tissue lysates. The column contains a biopolymer-shredding membrane which is in a microcentrifuge spin-column format. Here are the Highlights for the column:

Highlights/Applications:
1. Quick and easy spin to replace syringe and needle homogenization
2. Prevent sample material loss by simply loading the sample to column and spin to collect the flow-through
3. No cross-contamination between samples unless using the same column for different samples
4. Spin to remove the insoluble debris
5. Reduce viscosity of samples for downstream RNA or miRNA preparation (with different nucleotide biding columns) or protein purification to obtain high quality and high yield products
6. Shear genomic DNA (<20Kb) to reduce viscosity for protein sample loading on PAGE gel
7. Filter Disc does not bind to DNA/RNA or Proteins

Hoe to use it:
1. Load cell or tissue lysate into EZshredder column with a collection tube.
2. Spin at full speed in a microcentrifuge.
3. Collect the flow-through in the tube.
4. Samples are ready for downstream application, eg, RNA or miRNA mini/midi preparation or protein purification.