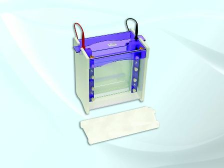 Click to enlarge image(s)
The preferred unit for maxi protein electrophoresis, the omniPAGE maxi unit combines
convenient ease of use features with high resolution separations. Simple set up using ultra soft
silicone seals guarantees trouble free glass plate loading and gel casting.
Dual gaskets on the gel running insert, along with notched and plain glass plates, ensure leak
proof gel running. Rapid set up cooling retains resolution in extended separations and also
saves on buffer volume without affecting run quality.
Glass plates reduce breakage and have bonded spacers for added convenience. A wide range
of accessories is available allowing many techniques to be performed using the same unit. Prep
combs can be used to maximize sample loading and recovery. Accessory electroblotting and
tube gel modules are available which use the same outer tank and lid.
omniPAGE Maxi Specifications:
Plate dimensions,
Gel dimensions (w x l)
20 x 20cm
16 x 17.5cm
Unit dimensions (w x l x h)
26 x 16 x 28cm
Max. sample capacity
192 samples, 48 samples per gel
Buffer volume
Min 1200ml; Max 5600ml
Combs available, No. of samples:
Thicknesses:

1, 5, 10, 18MC, 24, 30, 36MC, 48

0.75, 1, 1.5, 2mm