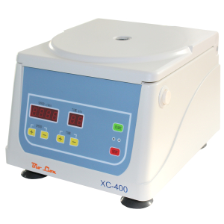 Click to enlarge image(s)
This low speed PRP centrifuge was specifically engineered by our technologists for small laboratories. It is designed to remove red and white blood cells in plasma like larger machines without sacrificing space. The auto-balancing system extends the centrifuge life by reducing noise and vibration. With multiple fixed angle rotor options, this versatile centrifuge gives you quality and affordability.
LED screen
Auto balancing
Brushless motor
Low Maintenance
Programmable
Comes with balance control, lid lock, and temperature/speed protection devices
Stainless steel chamber
Technical Data
Model XC-400
Max Speed
4500r/min
Max RCF
2200 X g
Fixed Angle Rotor
AP05
5mL X 12 (4500 r/min) RCF:2215 X g
AP15
15mL X 8 (4000 r/min) RCF:1700 X g
AP10
10mL X 12 (4000 r/min) RCF:1700 X g
AP20
20mL X 8 (4000 r/min) RCF:1700 X g
Timer Range
0~99min
Noise
<55dB(A)
Power Supply
AC110V 50/60/Hz
Dimensions
241 x 298 x 216mm (LxWxH) 9.5″ X 11.75″ X 8.5″
Shipping Weight
17 lbs.