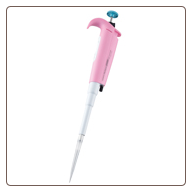 Click to enlarge image(s)

Non-filter designed in Nichipet Premium LT
100~1000μL.

The durability still remain unchanged as Nichipet Premium has. Stroke loading of Nichipet Premium LT becomes less 70% at maximum than before.
New round shape of the Premium mitigates fatigue and stress from heavy workload.
Mltigates tension to thumb. Single hand pipetting can be done smoothly to improve operation efficiency.
New design for reducing stroke loading and mitigating fatigue.
Uses an enlarged counter display which is better for visibility and volume setting.


Seal ring for the Premium is tested dispensing / aspirating 600,000 times.( 2μL ‒ 1000μL )
Nozzle top is highly abrasion tolerant for 2μL through 1000μL.

New material used for 4 notches-lock improves its strength which minimizes the lever shifting and avoids drifting and wearing.
The material of the pipette body has high tolerance for solvents and drop impact.
Ceramic plunger is used to prevent from corrosion by solvents(over 100μL type)

Hyper blower system improves dispensing efficiency especially on 2μL and on 10μL dispensing. (NLT- 2、10 )
Easy-Calibration function provides simple lab calibration.
One-hand operation from the beginning to the end and enlarged finger rest makes the pipettes more friendly.
Hand temperature doesn't permeate through the body of the pipette which works to avoid affecting volume measurement. ( Patented )
Slim ejector pipe can be easy inserted into tubes to aspirate and plastic resin can avoid rust.
Fully autoclavable. ( 121℃ for 20 minutes )
All components are manufactured and assembled in Japan to ensure the quality and reliability of the pipette.

*Nichipet Premium LT comes with all features of Nichipet Premium.

Cat. No
Volume Setting
Volume range(μL)
Increments(μL)
Usable tips
00-NLT-2
Digital Setting
0.1~2
0.002
BMT2-UT/UTWR、FUT/FUTRB
00-NLT-10
0.5~10
0.01
BMT2-SS/SSR、FSS/FSSRB
00-NLT-20
2~20
0.02
BMT2-SG/SGR、FSG/FSGRB
00-NLT-100
10~100
0.1
BMT2-SG/SGR、FSG/FSGRB※
00-NLT-200
20~200
0.2
BMT2-SG/SGR、FAG/FAGRB
00-NLT-1000
100~1000
1
BMT2-LG/LGR、LE/LER、FLG/FLGRB、FLE/FLERB
※The AC and CV values largely depend on the operator's and the environment under which the pipette is used.