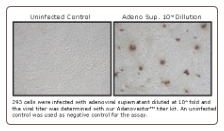 Click to enlarge image(s)
Adenovector Rapid Titer Kits provide a complete set of materials for the fast quatification fo adenoviral stocks. The results are obtained with 48 hours and are comparable to endpoint dilution titration assay, a method that normally takes up to 2 weeks to perform. Another advantage of using this kit instead of a nucleic acid based assay is that the kit only assays for functional adenovirus particles, not including defect particles.
Special Features: Complete kit; Results with 48 hours; Only assays for functional particles.
Applications: Fast quantification of adenoviral stocks.