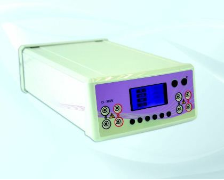 Click to enlarge image(s)
With a maximum 500V, 800mA and 300W voltage, current and power output, the omniPAC
CS-500V MAXI is an excellent general purpose power supply that fits the broadest range
of electrophoresis applications, and can run as many as four units under a constant or
programmable setting. Its capacity to store up to 30 programmed files, each with 6 steps,
makes the CS-500V perfect for techniques that benefit from subtle and gradual stepwise
changes in the electrical parameters as the run progresses, such as DGGE and large format
vertical PAGE using Cleaver Scientific's VS20-DGGE and WAVE systems. A large 2.6" LCD
screen shows within 2 lines the real-time values of the electrical parameters during the run,
along with the program file and individual step in operation, enabling the user to appraise
the entire run at a single glance. The CS-500V MAXI is also equipped as standard with many
features associated with the omniPAC MIDI, including timer and alarm, 'pause / resume'
functionality, a stackable design and enhanced in-built safety features.
Other features include:
■High performance, easy to
■Graphic and text displays
■Programme constant voltage
files to recall and re-run
■Safety – Comply to all relevant
omniPAC MIDI CS-500V Power Supply Specifications:
| | |
| --- | --- |
| Voltage Output | 5-500V |
| Current | 1-800mA |
| Power | 300W Max. |
| Voltage Input | 100-240V, 50/60Hz |