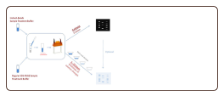 Click to enlarge image(s)
2 vials (1000 µl each)
Instant-Bands Sample Treatment Buffer (Sample Loading Buffer) stains a protein sample for SDS-PAGE electrophoresis. Protein samples are prestained during sample treatment prior to electrophoresis. You can observe the result directly after electrophoresis under an UV transilluminator. This product has the following features:
Simple: Completely eliminate the staining/de-staining procedure without adding any additional steps
Fast: The results can be observed instantly after electrophoresis
Sensitivity: The sensitivity of detection of proteins is higher than the conventional Coomassie blue staining
Flexible: Gels pre-stained with Instant-Bands can be further processed by Coomassie blue staining
Clean: No contamination of organic solvents to our environment and messes of coomassie blue in your lab

Comparison of a gel stained by Instant-Band and by Coomasie Blue
Other features:
1. A gel does not need to be removed from the gel cassette if a LED blue transilluminator is used to view the protein bands. It works for any gel regardless the buffer system and for either glass or plastic cassette. This provides a simple and fast way to check your protein gel results without disassemble electrophoresis system.

2. Instant-Bands treated samples can still be transferred to a membrane for Western blot experiments without affecting results.
3. You can stain the selected lanes of a gel, not the entire gel, which offers great flexibility.