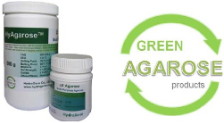 Click to enlarge image(s)
One of our best sellers. Buy it with confidence. High quality guaranteed! Your money will be fully refunded if you are not 100% satisfied. No re-stock fee and no shipping cost charged

Our High Pure, Quick Dissolve and Low EEO Agarose is a low EEO, multi-purpose, standard melting point agarose that yields high resolution sharp DNA bands with high clarity and low background. Its optimized gel strength enhances ease of gel processing and handling. Manufactured with innovative Organic Solvent Free Manufacturing process that is greener and more environment friendly. We have compared ours with Fisher Scientific agarose (BP160-500) at $608.94 and Invitrogen Ultrapure Agarose (16500500) at $480.39, Sigma Agarose Type I (6013-500G) at $500 and Bioexpress (E-3119-500 ) at $492.70, and turned out ours are much better than theirs. on color, partical size and cloning efficiency, etc. Test it by yourself, you will love our high quality, cost-effective and greener agarose.
High Resolution, Qick Dissolve

Gel Strength: ≥1200g/cm² (1.0%)

Gel Strength: ≥2500g/cm² (1.5%)

Gelling Point: 36℃ ± 1.5℃ (1.5%)

Melting Point: 88℃ ± 1.5℃ (1.5%)

Low EEO: ≤ 0.13

Moisture: ≤ 6%

Sulfate:≤ 0.14%

Separation Range: 50bp - 20kb

Background: Very low

DNase & RNase: None Detectable

Features and Advantages
Ideal for routine DNA and RNA gel electrophoresis and blotting.
Multi-general purpose

DNA RNA fragment recovery for cloning

Mouse genotyping

Greener agarose choice

Low background and high resolution

Optimized gel strength for ease of gel preparation

Ideal for gel electrophoresis and chromatographic separations

Other life science applications.
How to make agarose gel for DNA electrophoresis?
Mix agarose powder with electrophoresis buffer to the desired concentration in a flask which at least has 2 times of gel volume. Heat the mixture in a microwave for one minute. Gently swirl the flask (warning: very hot, wear protective gloves), then put it back into microwave to continue the heating. To avoid blowing out of solution use Medium Power and watch the solution carefully during heating. Stop heating immediately when you see the solution starts blowing. Making gel over 1.5% needs multi-short-time heating and swirling. Heat the solution until agarose is completely dissolved. Add ethidium bromide or other DNA staining dyes to the gel (final concentration 0.5 ug/ml) and mix well. After cooling the solution to about 60C, pour it into a casting tray, then put a sample comb, and allow the gel to completely solidify at room temperature. If you are in a big hurry, you can put it in a refrigerator. Put a note on the door to avoid others to dump your gel.
After the gel has solidified, move the comb with care. Do not to rip the bottom of the wells otherwise you will lose your samples. Put the gel tray into the electrophoresis chamber and cover the gel with buffer (0.5cm higher than gel surface). Mix samples with DNA loading buffer, then pipette it into sample well. Place the lid and power leads on the apparatus, turn on the power supply, and set the voltage (5 v/cm of two electrodes). Pay attention to the DNA migration direction! The DNA is negatively charged so it migrates from negative electrode (black) to positive electrode (red). There will be more bubbles coming off from negative electrode than positive electrode.

Safety Precautions
The following safety precautions still apply when handling hot agar and using microwave ovens (see how to make agar plates in our agar product discription):
Do not overfill containers (no more than two thirds full).

Only heat for the minimum time.

Wait a while for the solution to cool before removing and handling.

Take particular care when swirling hot solution to mix it.

Wear suitable PPE---laboratory coat, oven gloves and eye protection if possible.

Be aware of other staff in the vicinity.

Never use laboratory microwaves for food preparation.

Ethidium bromide is a potent mutagen and suspected carcinogen at high concentration. If spilled on skin, rinse with excessive water.

Tips
To minimize foaming during heating let agarose soak/hydrate with the buffer for 1 minute before heating.

TAE buffer has better resolution for DNA fragment over 4 Kb, TBE has better resolution for small DNA fragment (0.1 to 3.5 Kb)

Too much buffer over the gel will slow the DNA migration

Ethidium bromide can detect as little as 1ng DNA with a small well (5mm)